Warhammer Age of Sigmar: Realms of Ruin Unveiled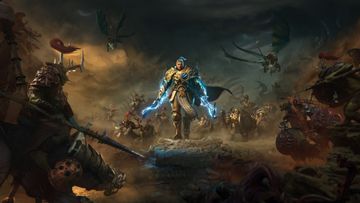 Tame the savage Realm of Beasts in a fantasy real-time strategy inspired by Games Workshop's tabletop game, featuring extensive single-player and multiplayer modes.
Set in the expansive Warhammer Age of Sigmar universe, command up to four unique factions in this realm-shattering fantasy real-time strategy game coming to PlayStation® 5, Xbox Series X|S, and PC via Steam and Epic Games Store.
A campaign of desperate survival
Engage in an immersive single-player campaign, co-written by Black Library author Gavin Thorpe. The forces of Order dispatch the celestial, reforged champions of the Stormcast Eternals to defend the fortress settlement of Harkanibus from relentless raids by the sinister Orruk Kruleboyz.
Join the Stormcast Eternals' detachment's leader, Sigrun, as she delves into the swamps of Ghur to uncover a mysterious source of arcane power that may turn the tide in the war for survival.
Dynamic real-time battles
No two battles are ever the same in Realms of Ruin.
Conquer the realm by unleashing a cadre of powerful units and upgrade your forces with specialist tech trees.
Manage a war across multiple fronts. Capture strategically located Arcane Conduits to harvest resources and seize victory!
Fight for online supremacy
Challenge warlords afar in online 1v1 and 2v2 cross-platform multiplayer, real-time strategy modes.
Build your honour in casual play or put your strategy to the test and crown yourself as the one true ruler of Ghur in ranked, competitive matches.
Gamepad-ready warfare
Players using a controller will experience DirectStep™, an innovative new real-time strategy control scheme enabling tactical immediacy in the heat of battle.
Using the analogue sticks and a few simple button presses, you will be able to effortlessly cycle through your squads, issue orders and engage the enemy.
Join the open Beta!
Get hands-on and be the first to try the game in our upcoming Open Beta! More information, including dates, will be shared soon.
Register your interest the Open Beta so you don't miss a beat.