Realms of Ruin Roundup - August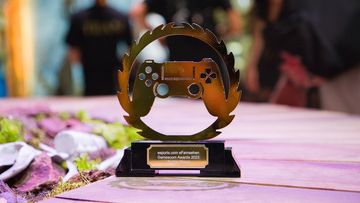 Hail Commanders!
The month of August has been as bold as July before it, with particular highlights being the launch of the Warhammer Age of Sigmar: Realms of Ruin Pre-order and our dominating presence at gamescom 2023!
And who can forget!?
"The ancient Realmgates in Ghur have begun shimmering with a strange glow as they prepare to open. We're pleased to announce that Warhammer Age of Sigmar: Realms of Ruin will launch on 17th November 2023 and you can pre-order it now HERE!!!"
As the Kruleboyz so eloquently say, "nothing can stop us now!".
Let's dive a little deeper into the Realm of memories on this one and look back at where the month began...
UNLEASH THE ORRUK KRULEBOYZ!!!
"Discover more about Multiplayer and the Orruk Kruleboyz in the second video of our Faction Focus series."
With trickz n' kunnin', we took you on a journey to learn more about the conniving Kruleboyz and dive deeper into competitive cross-play action from the battlefield, in our first 'Faction Focus' video.
Orruk Kruleboyz Unit Spotlights
With the era then tainted with the stench of the Kruleboyz, came a selection of new units to scour.
Crafting The Realm
Alongside the gruesome invitation to learn more about the Kruleboyz, came more insight into some of the exciting gameplay elements coming to Realms of Ruin, in two further instalments of our 'Crafting the Realm' series.
Control The Battlefields - Controlling the battlefield is key to seizing victory. Learn more about Arcane Conduits and how they can sway battle in your favour. 
Resources - Managing your resources is imperative to your success on the battlefield. Learn more about 'Command' and how to best strategise your domination to seize victory over your enemy.
"NOTHING CAN STOP US NOW!"
Sneaking into the mix also saw the reveal of some key characters you'll be set to face in Realms of Ruin.
Get a little closer...if you dare...
PRE-ORDER
Then forth, Commanders, came the much anticipated announce of the Realms of Ruin Pre-order, live at gamescom 2023 as part of the 'Opening Night Live - Pre Show'.
Pre-Order the Ultimate Edition of Warhammer Age of Sigmar: Realms of Ruin and receive:
The full game
Four Hero Customisation skins
2 Profile Customisation Sets
Up to 3 Days Early Unlock
Hero DLC 1 & 2 (When available)
 Learn more about all of our Pre-order editions in our FAQ.
And finally
We'd like to thank you all for joining us, in whatever capacity, at gamescom 2023 this last week.
We had a tremendous time with those of you engaged in live updates from the show floor via our socials and official Discord, as well as those who were watching along our livestreams and live feed moments throughout.
We met so many incredible Warriors of the Realm and cannot thank you enough for the excitement you all brought along with you.
Best Booth at gamescom 2023 | eSports.com
And what better way to close our time at the event than with an award for 'Best Booth', courtesy of e.sports.com.
The entire team are overjoyed to receive this and it'll take pride of place back at Frontier HQ as the memories made provide even greater excitement for all on the road to Realms of Ruin release.
Once again we are so pleased to unveil that Warhammer Age of Sigmar: Realms of Ruin will launch on 17th November 2023!
We can't wait to continue this road to the Realm with you all.