Realms of Ruin Open Beta is now LIVE!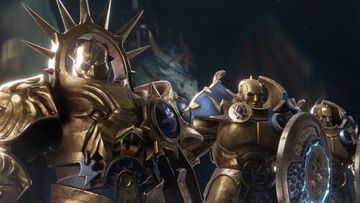 Open Beta is now LIVE!
The time has come to venture forth to tame the Realm of Beasts in the Warhammer Age of Sigmar: Realms of Ruin Open Beta for Steam, Xbox Series X/S and PlayStation 5*.
By participating in the Open Beta, you will have the chance to become an integral part of the development process, providing valuable thoughts and feedback to ensure a smooth and stable experience for players at the game's full launch.
The Importance of Open Beta
The main objectives of this Open Beta are two-fold:
Test the game's stability and network performance.
Test the game's multiplayer and review player feedback on the balance of the Stormcast Eternals and Orruk Kruleboyz factions, as well as the overall economy and gameplay balance.
It's important to note that the version of the game you will be playing is still very much in development and therefore we expect you will encounter in-game bugs and network issues. Your reports and feedback are valuable contributions and we will pass them on to our teams, ready and waiting!
Expected Issues
By having a large number of players join the game at once, we can stress test our servers and identify any potential bottlenecks or issues that may arise. This does mean that you may encounter some of the following issues:
When attempting to matchmake, or create/join a custom lobby, you may find during peak times that these services return errors; if this is the case, please try again later.
When loading in to matches, if you're waiting in the queue and it times out, please wait for a couple of minutes before trying again; this is only likely to be an issue during peak times.
Game crashes may happen! Please do ensure any stability issues you encounter are reported via the Issue Tracker website.
Early development gameplay issues, such as inconsistencies with the user interface, graphical issues and other areas of the game at present which cause confusion or unexpected functionality should also be reported via the Issue Tracker website.
Due to the nature of Open Betas, we withhold the right to pause new sign-ins at any time, while we catch up to demand - in these circumstances we will communicate this out, and let you know when the Realmgate opens once again.
To read more about the importance of network test and balance passes, you'll find additional information on our dedicated Open Beta page.
It's not too late to join!
The Warhammer Age of Sigmar: Realms of Ruin Open Beta is now available to download and play today, running from July 7-10 on Steam, Xbox Series X/S and Playstation 5*.
A Frontier account is required to access the Open Beta. You can create one on our Frontier website if you don't currently have an account.
Steam
Launch Steam and navigate to the Warhammer Age of Sigmar: Realms of Ruin store page and follow the link there to download.
Xbox Series X|S
Launch the Xbox Store and search for Warhammer Age of Sigmar: Realms of Ruin – Open Beta. Select Download.
Playstation 5*
Launch the PlayStation Store and search for Warhammer Age of Sigmar: Realms of Ruin – Open Beta. Select Download.
To learn more about your Open Beta objectives, head on over to the official Open Beta section of our website here.
Announcing Open Beta Participation Incentives!
A trip to Ghur doesn't just mean being ambushed by a bunch of conniving Kruleboyz... rewards await too!
All those who take part in the Open Beta will receive a unique in-game profile set, unlocking a unique Avatar, Avatar Frame, Banner and Banner Frame which will be available to them when the game fully launches.
How To Play
To kickstart your journey into battle, we've provided some insights into how best to enforce your efforts with some key videos outlining important elements of gameplay mechanics.
Watch the 'How to Play' videos now!
Join the Discord
For those taking part in the Open Beta, a plethora of new updates are now in effect over on the official Realms of Ruin Discord server! Not a member? Join the Discord now.
Delve into our new Discord feedback and bug reporting forums now available as part of the Open Beta phase as a dedicated space to share your experiences from the Realm, along with open voice channels, a helpful 'Looking for Opponent channel' to get you into battle even quicker, as well as an insightful "How to Play" section to help you on your way, should you need more information in your arsenal.
You'll also now be able to share your Open Beta screenshots, videos and even enjoy exciting official emotes to share in conversation with your fellow warbands!
---
Lay your claim and step through the Realmgate to seize your victory in the Realms of Ruin Open Beta - now live!
*For residents of Germany, PlayStation Plus is required to join the Open Beta.