Launch Trailer | Play NOW with Early Access!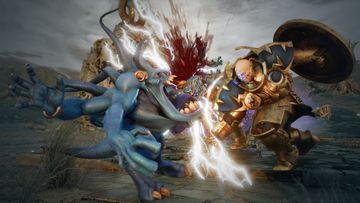 Warhammer Age of Sigmar: Realms of Ruin is AVAILABLE NOW for Commanders who have pre-ordered the Deluxe or Ultimate Edition of the game!
Lead your faction into brutal strategic combat in Warhammer Age of Sigmar: Realms of Ruin! Coming to PC, PlayStation 5 and Xbox Series X|S on 17 November!
If you have yet to pre-order the Deluxe and Ultimate Edition, there's still time to reap the reward of early access to hone your battle skills ahead of others who wish to claim the Realm a their own...
Prepare to lead the charge!
Warhammer Age of Sigmar: Realms of Ruin is a real-time strategy game from Frontier, set in the iconic Warhammer universe. Become a warlord and lead four unique factions to conquer the wild and savage Realm of Ghur in tense and tactical battles:
Cinematic campaign: Enjoy a rich, character driven story of desperate conflict in a savage realm, co-written by acclaimed Black Library writer Gav Thorpe.
Comprehensive multiplayer: Dive into 1v1 and 2v2 cross platform multiplayer matches with any mix of human and AI teammates/opponents, and climb a 1v1 competitive ladder.
Eternal conquest: Battle across procedurally generated wildlands in a single player experience, as you fight towards the final enemy.
Endless creativity: Build, share and compete on your own maps or other people's, paint your own armies, create beautiful dioramas to show them off.