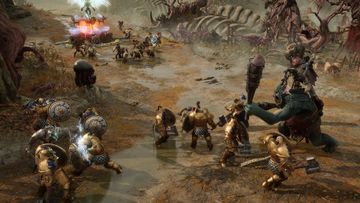 Hail Commanders.
Alongside the cinematic campaign and multiplayer modes already announced, those with a keen eye for the ever shaping landscape of the Realm before us may have noticed some exciting updates unveiled recently over on our Warhammer Age of Sigmar: Realms of Ruin store page here.
It's time to discover more in our latest video here:
CONQUEST!
ENDLESS BATTLES IN GHUR
Conquer the realm in a series of combat scenarios, with unpredictable twists on the rules of war.
ETERNAL CONQUEST
Lead your forces across the realm and choose your path through a series of devilish challenges that require you to show your mettle.
UNPREDICTABLE CHALLENGES
Overcome gameplay twists which will require you to rethink your playstyle and push your strategic prowess.
ENDLESS OPPORTUNITY
No two conquests will be the same, as the realm twists and turns with new experiences and challenges to overcome.
CREATE!
ENDLESS CREATIVITY
Build, share and compete on your own maps or other people's, paint your own warbands, create beautiful dioramas to show them off.
MAP EDITOR
Construct battle maps with a revolutionary Map Editor, which utilises the very same tools used to create existing maps in the game.
ARMY LIVERY
Personalise your forces with paint from the Games Workshop's Citadel collection and leave a personal mark in your path of conquest.
SCENE EDITOR
Place and pose characters and props in creatively curated and sharable scenes to share with the community.
Warhammer Age of Sigmar: Realms of Ruin launches 17 November 2023!
Take heed and pre-order NOW to reap a selection of exclusive rewards along with up to 3 days early access, as offered in our Ultimate and Deluxe Editions.
The time to seize your victory is almost here...
With four unique factions to choose from, experience fantasy real-time battles that depict the Mortal Realm of Ghur in never-before-seen detail in this Realm-shattering real-time strategy of tactics and command.
Prepare to immerse yourself within a rich narrative co-written by Black Library writer Gav Thorpe, exploring the nature of survival from the perspectives of righteous champions and villainous generals and follow the exploits of the embattled Dawnbringer Crusades, as they struggle to return civilization to a ravaged land, while great power flows from a mysterious source.
It doesn't end there...
Check out our updated feature list HERE, to prepare you for your many epic victories ahead.
Stay attuned to our social channels and join the official Discord HERE for more news yet to come.