The Celestial Spear and Mouth of Mork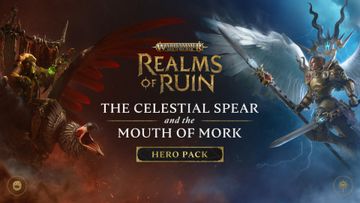 Two brand new heroes are arriving for Warhammer Age of Sigmar: Realms of Ruin.
Yndrasta, The Celestial Spear.
Forged in the flames of Azyr and tasked with the duty of hunting down the wayward beasts of Ghur, Yndrasta is a powerful flying hero able jump in and out of the fray quickly. Her legendary spear, Thengevar, can be thrown to disrupt enemies and inspire Stormcast Eternal allies.
Gobsprakk, The Mouth of Mork.
Gobsprakk is the canniest and most kunnin' of all the Swampcalla shamans, taking to the skies on a Corpse-rippa Vulcha. As an extremely mobile and late game assault hero, he rallies support to his Orruk cohorts and unleashes destructive power upon his enemies.
Both Hero DLCs are scheduled to arrive after the game launches on November 17th, with an exact release date coming soon. The Hero DLCs will add a new playable hero units that can be used in Multiplayer and Conquest modes, bringing all-new abilities to the field. Players will swap out their default hero units for one of these special characters, allowing for greater choice in army loadout.
Each Hero DLC will also be available separately for £3.99/$4.99/€4.99, as well as part of a bundle for £6.99/$8.99/€8.99. 
Both heroes are included in the Ultimate Edition of Warhammer Age of Sigmar: Realms of Ruin. 
Prepare to lead the charge! 
Warhammer Age of Sigmar: Realms of Ruin will be available as a physical release on Xbox Series X|S and PlayStation 5 on the 27th February 2024! 
The physical edition comes with the full game and both hero DLCs!
Warhammer Age of Sigmar: Realms of Ruin is a real-time strategy game from Frontier, set in the iconic Warhammer universe. Become a warlord and lead four unique factions to conquer the wild and savage Realm of Ghur in tense and tactical battles:
Cinematic campaign: Enjoy a rich, character driven story of desperate conflict in a savage realm, co-written by acclaimed Black Library writer Gav Thorpe.
Comprehensive multiplayer: Dive into 1v1 and 2v2 cross platform multiplayer matches with any mix of human and AI teammates/opponents, and climb a 1v1 competitive ladder
Eternal conquest: Battle across procedurally generated wildlands in a single player experience, as you fight towards the final enemy.
Endless creativity: Build, share and compete on your own maps or other people's, paint your own armies, create beautiful dioramas to show them off.