Realms of Ruin Launch Celebration!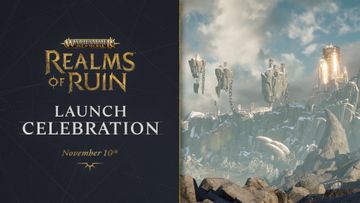 Join the Warhammer Age of Sigmar: Realms of Ruin team across the long weekend of November the 10th/11th/12th, right from the heart of Warhammer World, Nottingham, with a very special celebration of the game's launch ahead of release on November 17th.
Come along and be one of the first to play Realms of Ruin before the launch, complete with Developer insights, refreshments and an opportunity to connect with fellow warlords!
Official Livestream!
Tune in on Friday November 10th over on the official Warhammer Twitch channel from 5:15pm GMT to join the fun live from the event space with exciting insights and special guests!
A 2v2 multiplayer match between Developers Frontier and Warhammer, featuring all four factions and an exclusive first look at Tzeentch in action.
A special Developer interview with Principal Game Designer Sandy Sammarco.
A closer look at the Heroes coming in DLCs 1 and 2.
Giveaways and more!
If you're tuned in to the livestream, you'll be eligible to claim some unique Twitch Drops for use in game, to prove your allegiance to the Realm of Beasts!
1 x in game profile Stormcast image frame
1 x in game profile Orruk Kruleboyz image frame
1 x in game profile Nighthaunt image frame
1 x in game profile Tzeentch image frame
This exciting event is not ticketed - guests are welcome to join as they wish across the duration of the celebration, from November 10th, 11th and 12th!
DISCIPLES OF TZEENTCH
Check our our latest Faction Focus reveal for the masters of sorcerous rites and manipulation, the Disciples of Tzeentch!
Warhammer Age of Sigmar: Realms of Ruin launches 17 November 2023!
Take heed and pre-order NOW to reap a selection of exclusive rewards along with up to 3 days early access, as offered in our Ultimate and Deluxe Editions.