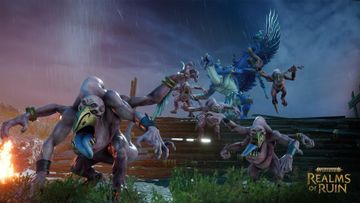 Hail Commanders!
The beating drums of war are booming with intensity as the opening of the Realmgates draws ever nearer. Though their yawning maws grow wider, we wanted to let you know about a change coming to Multiplayer and Conquest modes ahead of release on 17th November.
We have been eagerly reviewing the fantastic feedback shared both from the Open Beta and the Next Fest Steam demo and one of the topics raised was the speed of units. We are happy to reveal that we are increasing the unit speed by 30% in Multiplayer and Conquest modes. This change will be available from launch and early unlock. 
Our goal with this change is to make the game feel as responsive as possible, as well as offering an even greater skill ceiling for RTS players. 
In order to preserve the narrative pacing of the game, particularly in regards to how quickly units move, this change will not apply to the story campaign. Preserving the cinematic story of Realms of Ruin is of the utmost importance for us.
Realms of Ruin will feature a host of difficulty settings, allowing players to tailor the experience to their liking – and for those new to RTS games, we want the campaign to offer them an introduction to the genre.
---
Warhammer Age of Sigmar: Realms of Ruin launches on 17th November 2023 for PC, Xbox Series X|S and PlayStation 5. Pre-order the Deluxe or Ultimate editions now to gain 3 days Early Unlock and play from the 14th November.