Crafting The Realm: Customisation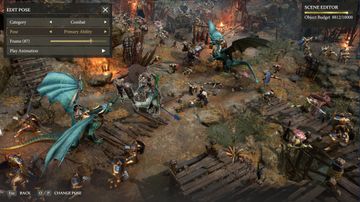 In Realms of Ruin unleash your creative power to design unique battle maps, dramatic scenes and unit colour schemes!
CREATE!
ENDLESS CREATIVITY
Build, share and compete on your own maps or other people's, paint your own warbands, create beautiful dioramas to show them off.
MAP EDITOR
Construct battle maps with a revolutionary Map Editor, which utilises the very same tools used to create existing maps in the game.
ARMY LIVERY
Personalise your forces with paint from the Games Workshop's Citadel collection and leave a personal mark in your path of conquest.
SCENE EDITOR
Place and pose characters and props in creatively curated and sharable scenes to share with the community.
Warhammer Age of Sigmar: Realms of Ruin launches 17 November 2023!
Take heed and pre-order NOW to reap a selection of exclusive rewards along with up to 3 days early access, as offered in our Ultimate and Deluxe Editions!